Sports Night Out In Sydney, Nova Scotia
Make your sports night in Sydney, Nova Scotia a great night out with friends and family at Don Cherry's Sports Grill in Sydney NS.
Don Cherry's have 22 TVs, big screens, and table TVs so there is no way you'll miss a second of the action! If you are looking for the best pub in Sydney NS to watch your favorite hockey team or baseball team, Don Cherry's is the best place to eat out in Sydney NS. You can expect great food specials, friendly atmosphere, and quick service each and every time. Make Tuesday and Thurs wing nights your night out with your partner, family, friends or coworkers.
Bring a couple of friends and stay around for the big game. Many couples dine out with their friends at Don Cherry's in Sydney River and stay around for hours chatting and cheering as the Toronto Maple Leafs, Boston Bruins, or Montreal Canadians win the big game!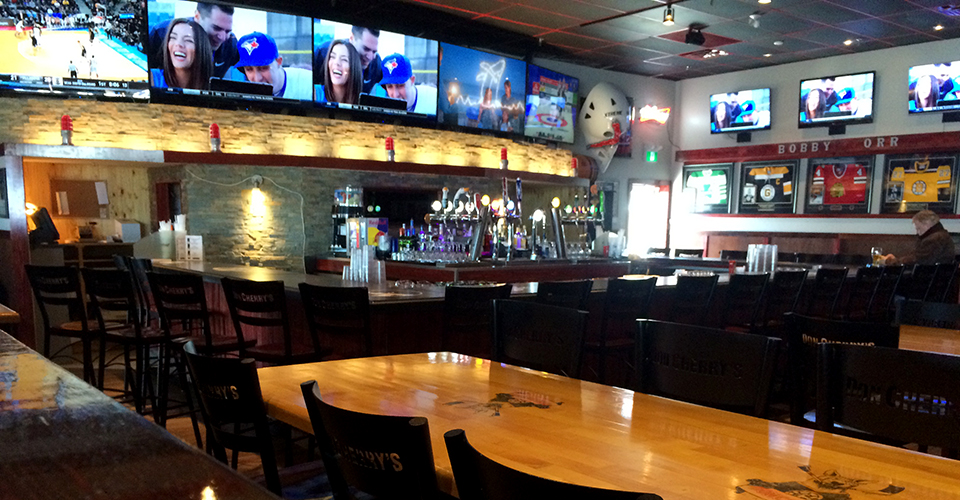 Mouth Watering Steaks, Cold Beer, Great Atmosphere!
We have mouth watering grilled steaks, a great selection of hearty burgers, sandwiches and cold beer. Families, sports teams and corporate groups all enjoy the fun and friendly atmosphere at Don Cherry's Sports Grill in Sydney NS, a fine Cape Breton dining out experience!
Don Cherry's in Sydney NS has over 15+ years of experience as one of the top licensed restaurants in Cape Breton so they know how to treat their customers right! Looking for a great sports grill in Sydney NS that you can watch the game and have a few beers, come to Don Cherry's in Sydney River.
Don Cherry's has many pub food selections to choose from including grilled steaks, mouth watering hot wings, sizzling fish & chips, and a large assortment of dinner specials, nachos, and wraps to choose from. Touted as the most popular bars in Sydney, Nova Scotia, Don's will take your reservation for any size group, family gathering, or sports team.
Call 902-539-5343 to

book your restaurant reservation

today!
Our Famous Wing Nights
Stop by on Tuesday and Thursday any time for our famous wing nights! You can also drop in for a midday meal and take advantage of our daily lunch specials in Sydney NS. Don Cherry's Bar and Grill in Sydney NS has something for everybody including a great family dining experience.
Don't forget to celebrate the buzzer-beating goal with our deep dish apple crisp! Desserts, meals, cold beer, hot coffee, nightly entertainment.. it's all good at Don Cherry's Sports Bar Sydney NS!
Need to feed a crowd, your ball team or hockey team? Order take-out from Don Cherry's Sports Grill and make sure to order a variety to please everyone. Call Don Cherry's Sports Grill in Sydney NS today and ask about our great deals at 902-539-5343!
Call ahead and we'll get your wings wrapped up to go. Want to order fish & chips to go for your and your family? Don Cherry's family restaurant in Sydney NS is the best place to call when you feel like take-out.