If you are looking for the

best hot wings in Sydney NS

then you have to look no further than

Don Cherry's Sports Grill in Sydney River

!
Don Cherry's have been serving up delicious hot wings for decades now to hungry Cape Bretoners! There are so many variety of chicken wings to choose from like the mild, medium, and hot wings as well as the ultimate wings and honey garlic wings.
There is something on the menu for everyone at this great family restaurant located at 45 Keltic Drive in Sydney River. Looking for steaks or burgers? Don't be shy! Ask your friendly server to bring you a menu if you can't decide. If you want the very best fish & chips in Sydney River they have that as well.
Hot Wing Flavors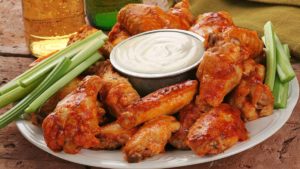 If fact there are so many different types of hot wings at Don Cherry's restaurant that they had to start upgrading their menu to include all types of wings. Don't be fooled! They all sell.
In fact some people come in grab a table and order 3 or 4 dozen wings each! Yes, that's right. If you can't decide which type of hot wings to order, they have your waitress bring you a few different varieties and then if you can't eat them all, your server with bag them for you to take home.
We've seen eating contests on Tuesday wing nights in Sydney NS where sports teams will sit down and order up ten dozen wings and then see how many each member of the team can eat. It's too funny watch the players lick their fingers as well as watching the hot wing sauce get smeared all over their faces while trying to eat a few of these huge hot wings!
Here are a few of the types of juicy hot wings that Don Cherry's now have on their menu:
Hot wings

Medium wings

Mild wings

Butter buffalo wings

Don's ultimate wings

Wacko pepper wings

Sweet Thai wings

Smokey BBQ wings

Honey Garlic wings

Teriyaki wings

Dry rubbed Tex Mex wings
Don Cherry's world famous hot wings can be ordered plain or with sauce on the side if you wish. Each order of ultimate hot wings or Teriyaki wings comes with a side of carrots and celery and lots of napkins!
If you are looking at dining out in Sydney River and want the best hot wings in Sydney, Nova Scotia then why not come to Don Cherry's Pub & Restaurant in Sydney River?
Where Did Don Cherry's Sports Grill Start?
Don Cherry's started with it's first franchise back in 2002 when the Painter Family purchased a License to operate the now famous "Don Cherry's Sports Grill" in the area known as Parry Sound, Ontario.
This beautiful tourist town of roughly 5000 people grew and within 5 years the family was able to purchase a Don Cherry's Sports Grill franchise and open their own restaurant. With this new found proven success they brought this successful licensing formula to any business owner who wanted to open their own independent restaurant.
Any operators who had operational experience from previous businesses they owned, found success came much quicker. Don Cherry's Sports Grill franchises can be found right across Canada in 2017 with new restaurants opening up yearly.
Don Cherry's Sports Grill in Sydney Nova Scotia is a great place to bring the family for lunch or supper. It is also a perfect location to bring your whole ball team or hockey team. This is what Don's is set up for – crowds!
Come in for a delicious lunch and enjoy a pint while you catch the Blue Jays in action on the big screen. There are so many menu items to choose from and they are all great due to Don's hiring policy. They hire nothing but the finest world class chefs with training is all type of culinary arts and different types of Canadian cuisine such as Don's famous hot wings, steaks, burgers, wraps, and hot sandwiches.
If you are thinking of opening a Don Cherry's Franchise you can get in touch with the main office in Parry Sound, Ontario by filling out this business opportunity sign-up form.
Who is Don Cherry?
Donald Stewart "Grapes" Cherry (born February 5, 1934) is a now famous Canadian ice hockey commentator for
CBC Television. Cherry co-hosts the "Coach's Corner" intermission segment (with Ron MacLean) on the long-running Canadian sports program Hockey Night in Canada.
Don Cherry's Sports Grill in Sydney NS usually brings in a lot of local customers and those traveling to Cape Breton from other parts of the country. The friendly atmosphere, dozens of big screen TVs to watch all the various sporting events, and down home good eating is why people flock to Don Cherry's!
The big game is always on, the service is second to none, and the beer is always cold at Don Cherry's Pub in Sydney!